Killer Apostles League
From AssaultWiki
Killer Apostles League also known as KAL| is an AssaultCube clan.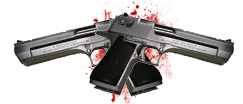 General Info
KAL was founded by LlamaDemon immediately after he disbanded his position in =SA= on May 14th 2011.
KAL's motto is "Kill to Unite, Unite to Kill"
The Killer Apostles league accepts english speaking members, does a moderate level of mapping and also runs full-time and part-time servers.
Current Members
Killer Apostles League
Clantag:
KAL|
Founded on:
May 14th 2011
Founded by:
LlamaDemon
Current leader(-s):
LlamaDemon, JamJam
| | |
| --- | --- |
| Members: | 6 |
| Country: | International |
KAL|LlamaDemon [Founder]
KAL|JamJamTheCalcMn [Reigning Member]
KAL|MajHillis [Recruiter]
KAL|Erv [Perv]
KAL|*Suicide*
KAL|GeneralLee
KAL|Mason
External links